THE BEST DOLPHIN CRUISE ! That is our commitment to you.
Since 2011, Surf's Up Dolphin Cruises has worked hard to provide a memorable experience that will be the highlight of your vacation. That's why we guarantee dolphin sightings when you cruise with us!
We provide a safe, clean atmosphere for your family to enjoy the thrill of seeing wild dolphins at play in their natural environment. Our boats create the perfect wave for the dolphin to showcase some serious surfing ability. Whether they are carving turns underwater or "getting air" with huge leaps you are sure to be impressed with their seemingly effortless mastery of their domain. So if you are seeking a once in a lifetime adventure or you are one of our regulars, come aboard and prepare to be amazed. We promise our best every time.

Our Crew:
Our knowledgeable captains run these boats so you can experience the excitement and joy of these amazing animals up close, while ensuring a safe and fun trip for your family or your group.
Capt Nelson Box began dolphin cruising as a deckhand in 1998 until he could find a "real job".  Twenty years and thousands of trips later he is still enjoying being on the water and introducing  people to the beauty found along our little corner of the gulf coast.
Check out our Facebook page to see customer reviews, photos and more!
Follow us on Instagram and Facebook to see more of our exciting tour photos!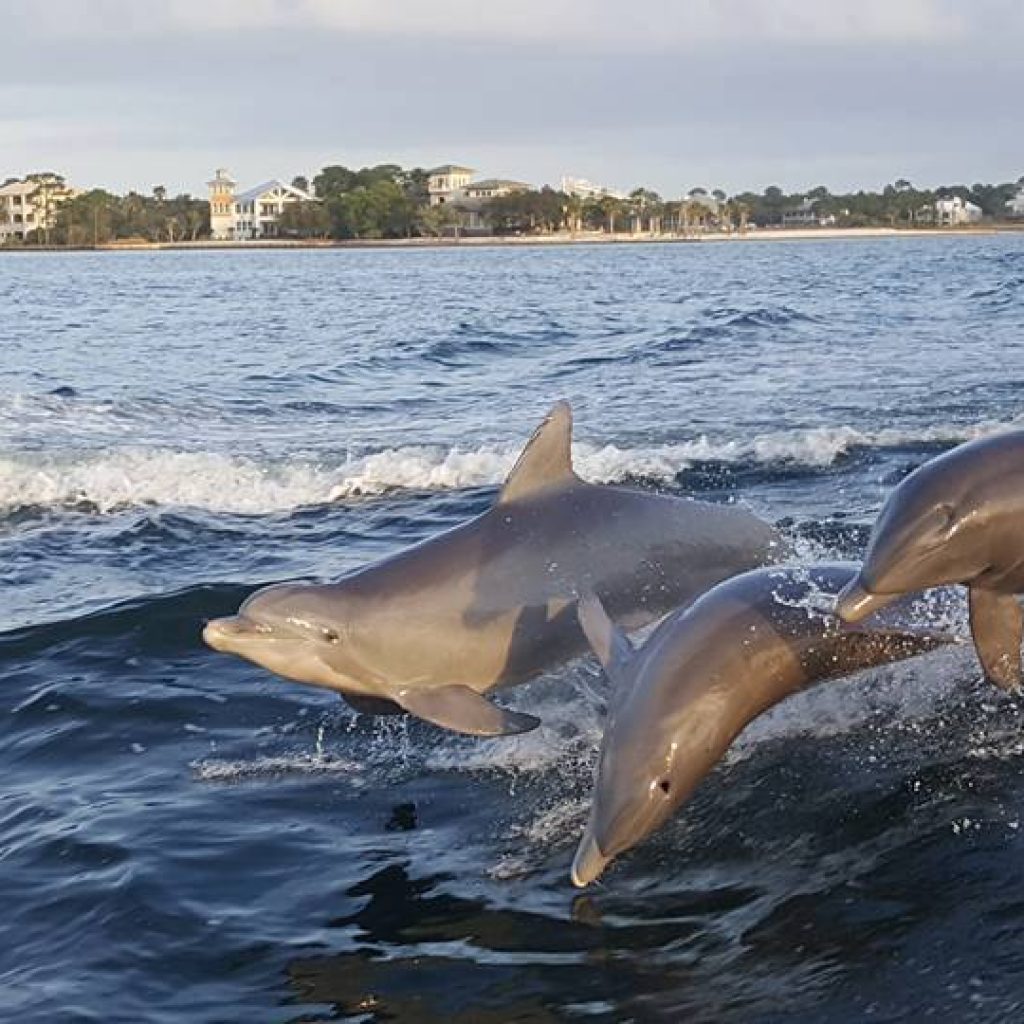 Where are we located?
You'll find us at Caribe Marina, formerly Outcast Charter Docks, on beautiful Perdido Key. 
We operate Monday through Saturday from March to October. But our trip times vary according to the season, so call 251.965.7873 for availability.
Keep the following in mind when planning and preparing for your cruise:
Trips are between 1 1/2 & 2 hours long.

You do need a reservation, so click the BOOK NOW button or call 251.965.7873 a day or so before you want to ride. 

We charge $15 plus tax for adults and children; kids 2 years and under ride free. Our evening trip is $18 plus tax; 2 years and under ride free.

Feel free to bring along a small cooler with drinks and snacks.

Restroom onboard.